We are proud to announce we will be installing this new line of synthetic turf provided by one of suppliers: Atlantic Irrigation.
Are you tired of muddy paws and dirty floors or cutting the grass in areas that are difficult to access or even maintaining your current yard area. Perhaps you're looking to practice your putting from the convenience of you back yard! Wouldn't it be nice to have an option that is always green, doesn't need to be cut, and will never create a mess?
The UltimateGrass line by EasyTurf is the Synthetic Lawn Solution where natural grass is not an option, or even the best option. Packaged with their proprietary UltraDRAIN Rinse-clean Drainage technology, UltimateGrass simulates the function, look & feel of real grass without all of the common issues assumed with maintaining a real grass lawn. It also boasts a 15-20 year life expectancy, which is the longest in the industry.
UltimateGrass products offers a variety of solutions for:
Pet Runs
Surfaces for playgrounds
Withstands chemicals around pools & spas
Between pavers, hardscapes
Playgrounds, Putting Greens & Bocce Ball
Rooftop & Patio systems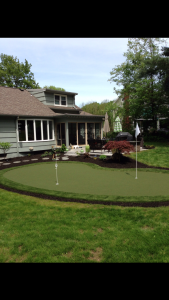 Check out the full line of products: Turf Products – The Pedigree for animals is VERY durable!
Why Choose EasyTurf?
EasyTurf is a FieldTurf Company – FieldTurf: NFL Tough! 22 of 32 NFL Teams Play or Practice on FieldTurf Products
Superior Drainage Proprietary – MaxxFlow with rinse-clean, drainage technology drastically out performs all other synthetic turf backing options.
8 Year Manufacturer's Warranty – 15-20 year life expectancy, longest in the industry. New product development ensures customers have the highest quality synthetic grass available.
Outstanding Water & Maintenance Savings – Provides 70% plus water savings and nearly eliminates ground maintenance fees.
Proven Pet Solution – Animal care facilities nationwide choose UltimateGrass for its superior drainage and unmatched durability.
Realistic Look & Feel – Superior product innovation and engineering come together to create a true-to-life product that matches the look and feel of a natural lawn
Quick Installation – Basic installation materials and supplies help make the installation process quick and efficient. Check out this video! Installation Video
Pricing is very reasonable – Give us a call!